The Multicolor LED strips are a flexible lighting solution for your lighting challenges for incredible indirect and decorative illumination where color its desired. These strips are designed for interior use, to bend and twist in just about any direction imaginable. Our LED strips use surface mounted LEDs, which allows for incredible flexibility without causing any damage to the product. In addition, all strips come with 3m adhesive tape allowing them to stick to most surfaces. The strip can be cut at every 6th LED, and this feature allow you to obtain the right length of light for your application, and also to illuminate a challenging area where the lighting needed is not continuous. After you cut the strip, you can still use the remaining segment of the strips by purchasing the connectors, check the LED strips accessories section. LED strips work with low voltage, 24VDC, making them suitable and safe for the above-mentioned interior lighting. The power supply is not included, please calculate the total load of the system before purchasing the power supply or please consult a specialist. This unit also requires an RGB Controller which is not included.
We stand by our vision of providing excellent products and services so that you can create all of your projects without worrying about the future. That's why these LED Strips are covered by our exceptional 5 Year Warranty protection.
Unlike other competitors LED Strips, these Strips come certified as UL Listed and Class 2. By using these strips and following local regulations, you are guaranteed that your projects will be up to code.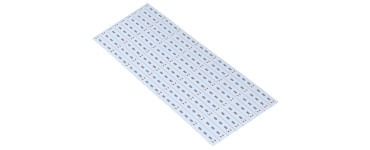 LED tapes made with Double layer PCB tend to have higher lumens and better heat dissipation to significantly improve its stability and life cycle. This helps the circuit board to withstand higher temperatures and electric currents. 
The most readily apparent benefit of lights with higher CRI ratings is the improvement in safety as a result of increased visibility.
The higher the CRI, the better the artificial light source is at rendering colors accurately. The lower the CRI value, the more unnatural colors appear when illuminated by the light source.
 A CRI value of 80+ will effectively portray colors and finishes. When the most accurate color rendering is essential, 90+ CRI values are recommended.
3M Strong Double Adhesive Tape
These LED Strips come equipped with 3M Double Sided adhesive tape. By using 3M tape, we guarantee that the strip will be able to resist and last its entire life cycle without any problems regarding adhesion to the surface where its installed.
Super Bright Output 600 LED count
This LED Strip comes equipped with a staggering 600 count RGB LED chips throughout the entire roll. By using this particular strip, you can ensure that you're achieving the highest density and uniform lighting inside profiles.  Best suitable for those high-lumens demanding projects.
Among the many benefits of using low voltage LED we can mention that safety is probably the principal one. Due to the significantly lower voltage running through the light fittings themselves, low voltage lighting is much safer to use.
By using 2″ Cuttable marks, this Strip has the added benefit of being highly customizable for your entertainment projects in order to achieve that perfect fit.
This LED Strip has a width of 12mm which permits it to be installed in most spots and custom made projects.